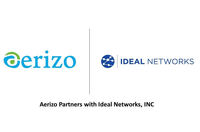 Aerizo Partners with Ideal Networks
Aerizo, installers and technicians will have access to a wide selection of troubleshooting & diagnostic testers to choose and use the best products & solutions to meet their customers" needs in UAE.
IDEAL Networks has appointed Aerizo to distribute its range of easy to use data cable and network testers to cable installers and IT technicians in the UAE.
"We are dedicated to providing connected products and services which simplify, demystify and improve the productivity of those installing, testing and maintaining network cabling and devices," says Mr Alejandro Hume, Regional Sales Manager for IDEAL Networks. "However, to keep customers satisfied, expert and responsive support services are needed locally to complement our quality products."
"With Aerizo as our trusted distribution partner, installers and technicians in the UAE can benefit from timely delivery and technical support, as well as local service and calibration," Hume continues, explaining that Aerizo will be responsible for selling, marketing and stocking IDEAL Networks products in the United Arab Emirates.
The range of IDEAL Networks testers available will include data cable testers, network, CCTV and telecom/enterprise testers.
IDEAL Networks data cable testers cater for testing and verifying both copper and fibre cable. Testers which offer Ethernet transmission testing and cable certification to provide proof of performance are also available.
To enable network issues to be identified and resolved quickly, IDEAL Networks provides a selection of network testers that support network connectivity troubleshooting. By effectively solving issues around incorrect IP configuration, rogue network services, network bandwidth issues and PoE supply, downtime for customers can be minimised.
IDEAL Networks" CCTV security testers offer installers a versatile tool for completing all key tests for both setup and troubleshooting. Similarly, the various telecom testers from IDEAL Networks offer comprehensive features for testing, monitoring and troubleshooting fixed line, mobile and wireless network interfaces efficiently.
"Aerizo is known for its quality products and solutions which our loyal customers have recognised for many years," says Mr. Glen Dsena, Director of Aerizo. "As a Value Added Distributor in the region with a strong customer base, we are confident that this new venture will be a great success."
"By each bringing our key capabilities, our combined strength will allow us to leverage the market in the UAE and provide greater support and solutions for installers and technicians," he continues.
"We believe that this agreement between Aerizo and IDEAL Networks will prove to be a win-win and we are very happy to have entered into this new collaboration," concludes Alejandro Hume.
About IDEAL Networks
IDEAL Networks offers easy to use data cable testers for cable installers and network testers to assist IT technicians with troubleshooting. The data cable tester range includes copper and fibre testers for cable verification, Ethernet transmission testing and cable certification that provide proof of performance. The unique network tester range helps to pinpoint and solve networking issues quickly. They decrease downtime by allowing field technicians to discover the root cause of network connectivity issues such as incorrect IP configuration, rogue network services, network bandwidth issues and PoE supply problems.
Aerizo – is at the forefront of system integration solution in UAE which caters clients all over the Middle East. We deliver the best solution with a combination of technical knowledge, genuine passion and creative problem solving skills. This enables us in providing the best innovative IT solution to our clients. Aerizo being the leading system integrator in Dubai, UAE has built up a strong relation with SMB as well as large enterprise in and around the region. From delivering the best products to consulting and quality control, we see to it that each and every aspect of the project is taken care in the desired manner. Our relationship with our clients is a true partnership. The sooner you involve us; the more value we can add.
Contact
Aerizo
Glen Dsena
HDS Tower, Cluster F, JLT Dubai | United Arab Emirates . 2504
000 Dubai
Phone: +971 4 5546230
E-Mail: sales01@aerizome.com
Url: http://aerizome.com